Vijay Shankar Biography – From the practice at Terrace to the first-ball wicket at the World Cup!
Family Background:
Vijay Shankar was born on January 26, 1991, in Tirunelveli, Tamil Nadu, India. Vijay's father, Mr. H Shankar is a former Club Cricketer and his mother Mrs. Rama Shankar is a homemaker. He has a brother named Ajay Shankar, who is also a Cricketer.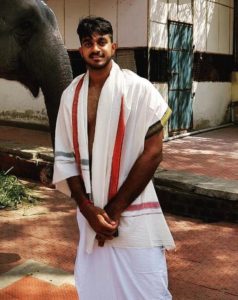 His father also wanted to become a cricketer but due to some family issues, he couldn't make it beyond the club cricket.
Vijay Shankar is married to Vaishali Viswesaran. His wife is a teacher in Chennai. The couple got married on January 28, 2021.
When he was all-ready about his future in cricket, his father renovated the house and constructed nets at the terrace where Shankar and his brother used to practice.
Vijay Shankar Biography:
Vijay Shankar's Profile
Personal Life
Full Name
Vijay Shankar

Nickname
Not Known
Date of Birth
January26, 1991
Age
29 yrs (in 2020)
Nationality
Indian
Religion
Hindu
Zodiac/Sun Sign
Aquarius
Birth Place
Tirunelveli, Tamil Nadu, India
School
Modern Senior Secondary School, Nangainallur, Chennai, Tamil Nadu
College
Guru Nanak College, Chennai
Physical Stats
Height
6ft.
(183 cm)
Weight
75 kg
(165 lbs)
Hair Color
Black
Eye Color
Dark Brown
Family & Relationships
Father

Occupation
H. Shankar

Former Club Cricketer
Mother

Occupation
Rama Shankar

Homemaker
Siblings
Ajay Shankar
Marital Status
Married
Wife
Vaishali Viswesaran
Career
Profession
Cricketer
Coach
S Balaji, WV Raman
Playing Role
Allrounder
Batting Style
Right-hand bat
Bowling Style
Right-arm medium
Major Teams
India, India A, Lyca Kovai Kings, Tamil Nadu Districts XI, Chennai Super Kings, Delhi Daredevils, Sunrisers Hyderabad
International
(ODI) Debut

Australia vs India at Melbourne, (January 18, 2019)
International
(T20I) Debut
Sri Lanka vs India at Colombo , (March 6, 2018)
First-Class Debut
Vidarbha vs Tamil Nadu at Nagpur, (December 1-4, 2012)
List-A Debut
Andhra vs Tamil Nadu at Bangalore, (February 20, 2012)
T-20 Debut
Andhra vs Tamil Nadu at Bhadravati, (March 17, 2013)
Cricket Career of Vijay Shankar:
Shankar made his List-A debut on February 20, 2012, against Andhra Pradesh in Vijay Hazare Trophy. He scored 6 runs in the match and conceded 23 runs with no wickets in the 4 overs he bowled.
Later, in the same year in December, he made his First-Class debut by Ranji Trophy against Vidarbha in which he made brilliant 63* runs in 153 balls including 5 fours & 2 sixes. His bowling stats were: 2/52 in his 27 overs in which 10 were maiden overs.
On March 17, 2013, Vijay made his T20 debut against Andhra Pradesh.
Vinay's turning point in his cricket career came in the year 2014-15 Ranji Trophy. In that season, he scored 577 runs in 7 matches including 2 centuries and 3 half-centuries. He also took 8 wickets in the season.
Later, Shankar got selected for the India-A squad because of his outstanding performance in the Ranji season.
In 2016-17, Tamil Nadu won the Vijay Hazare Trophy and Deodhar Trophy under the captainship of Shankar.
In November 2017, he got selected for the Test squad against Srilanka but didn't get the chance to play.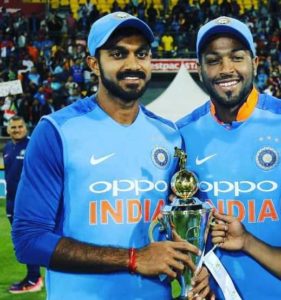 International Career:
On March 06, 2018, Vijay made his international T20 debut opposite Srilanka. He didn't get the chance to bat, however, he bowled 2 overs in the match in which he conceded 15 runs.
On January 18, 2019, Vijay Shankar made his ODI debut against Australia. Again, like his T20I debut, he didn't get the chance to bat but bowled 6 overs in the match.
He was also part of the 2019 ICC World Cup. On June 16, 2019, he played his first world cup match against Pakistan as a replacement for injured Shikhar Dhawan. He even got his first over because of another injured player (Bhuvaneshwar Kumar). Another interesting fact is that he got a wicket on the first ball of his first world cup match. He took 2 important wickets in the match and remained not-out at the score of 15.
Cricket Stats:
Cricket Stats:
Batting stats:
ODIs
T20Is
First Class
List-A
T20s
Matches
12
9
45
88
90
Innings
8
4
59
76
70
Runs
223
101
2242
2286
1356
H.S.
46
43
111
129
69
Average
36.00
25.25
44.84
38.10
26.07
100s/50s
0/0
0/0
5/16
2/12
0/4
Bowling stats:
ODIs
T20Is
First Class
List-A
T20s
Matches
12
9
45
88
90
Innings
9
6
57
74
48
Wickets
4
5
33
54
26
Average
52.50
38.20
53.06
35.57
35.11
Economy
5.40
9.09
3.21
5.09
8.41
Best Bowling
(Match)
2/15
2/32
5/89
4/34
3/12
IPL Career of Shankar:
In the IPL 2014, Vijay Shankar played only 1 match for the Chennai Super Kings. CSK again signed him for the IPL 2015 & 2016 season but he couldn't manage a place in the playing XI of any of the seasons.
Sunrisers Hyderabad signed him for the 2017 IPL. He scored a total of 101 runs at an average of 50.50 in the 4 matches he played in the tournament.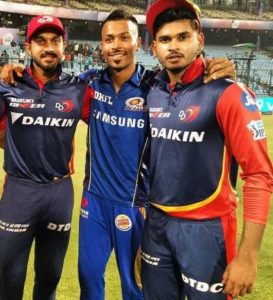 Later, Delhi Daredevils bought him at the IPL auction for the 2018 season. He played 13 matches in the tournament and scored 212 runs in it.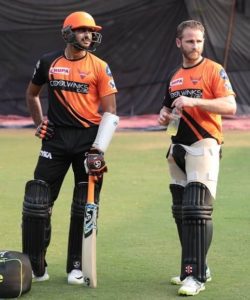 Shankar was traded back to the SRH for the IPL 2019. In this season he managed to score 244 runs in 15 matches under the captainship of Kane Williamson and Bhuvneshwar Kumar. Delhi Capitals bought him at the price of 3.20 crores (INR) for the 2020 IPL.
IPL Stats:
IPL STATS
Batting Stats
Matches
Runs
Average
Strike-Rate
HS
50/100
2019
15
244
20.33
126.42
40*
0/0
2018
13
212
53.00
143.24
54*
1/0
2017
4
101
50.50
134.66
63*
1/0
2014
1
0
-
-
-
0/0
Bowling Stats
Matches
Wickets
Average
Strike-Rate
BBM
4W/5W
2019
15
1
70.00
48.00
1/11
0/0
2018
13
1
58.00
30.00
1/22
0/0
2017
4
0
-
-
0/0
0/0
2014
1
0
-
-
0/19
0/0
Facts about Vijay Shankar:
He is a big fan of Manchester United.
He is a pure Vegetarian.
Shankar idolizes 'The Wall' Rahul Dravid.
He admires MS Dhoni for his calmness on the field.
Vijay Shankar was part of Lyca Kovai Kings in the 2016 & 2017 TNPL season.
He was Chepauk Super Gillies' first pick in the 2018 TNPL drafts.
He took a wicket on his first ball of the World Cup match.
Frequently asked questions on Google:
---
Q1: Where is from Vijay Shankar?
Ans: Tirunelveli, Tamil Nadu, India.
---
Q2: Who is the father of Shankar?
Ans: H. Shankar, former club cricketer.
---
Q3: What is the age of Vijay Shankar?
Ans: 29 years (in 2020)
---
Q4: Who is the wife of Vijay Shankar?
Ans: Vaishali Viswesaran
---
Q5: Is Vijay Shankar a Brahmin?
Ans: Yes, he belongs to a Brahmin family.
---
Social Media Accounts:
Hope you liked the Biography of Vijay Shankar and if you have any query related to it, then definitely tell us in the comment box.
If you find this Post share-worthy, kindly share it with your friends and loved ones.