Olivia Cooke Biography – The British actress who is a popular face in Hollywood!
Family Background of Olivia Cooke:
Olivia Cooke was born on December 27, 1993, in Greater Manchester, England. Her father, John Cooke, is a former policeman. Her mother, Lindsy Cooke, is a sales representative.
She has a younger sister named Eleanor Cooke.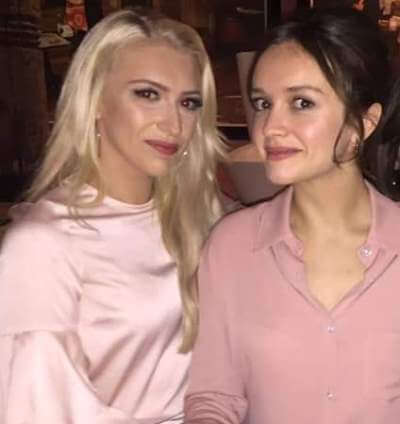 Her parents got divorced when she was too young. Both Olivia and her sister were raised by her mother only.
Early Life:
Cooke started doing different things like ballet and gymnastics at a very young age. Later, she began acting at the age of only eight. She used to perform at Oldham Theatre Workshop, a drama theatre in her hometown.
At the age of 14, she started doing commercials with the help of a local agent. She got a significant role at the age of 17 when she portrayed Maria in West Side Story in her school production.
Subsequently, after working a lot in the ensemble at Oldham Theatre Workshop, she finally played the lead part in the remake of Cinderella titled Prom: The Musical. After that, she left the theatre and started doing TV work.
Education:
She attended Royton and Crompton Academy. Also, she learned basic drama skills at Oldham Sixth Form College. Olivia left school before finishing her A-levels to follow her acting career.
She had auditioned for the famous drama school RADA (Royal Academy of Dramatic Art), where she reached the finals but couldn't make it to the final list of participants.
Biography of Oliva Cooke:
Olivia Cooke's Profile
Personal Life
Full Name
Olivia Kate Cooke
Nickname
Not known
Date of Birth
December 27, 1993
Age
[age birthday=1993-12-27 /] (in [current_year /])
Nationality
English
Religion
Christianity
Zodiac/Sun Sign
Capricorn
Birth Place
Greater Manchester, England
School
Royton and Crompton Academy
College
Oldham Sixth Form College
Physical Stats
Height
5ft.4"
(1.66 m)
(166 cm)
Weight
Not known
Hair Color
Brown
Eye Color
Dark Brown
Family & Relationships
Father

John Cooke
Mother
Lindsy Cooke
Siblings
1 sister (Eleanor)
Marital Status
Unmarried
Boyfriend
Not known
Career
Profession
Actress
TV Debut
Blackout
Movie Debut (English)
The Quiet Ones
Movie Debut (American)
The Signal
Olivia Cooke's Acting Career:
Olivia Cooke started working in the television industry at the age of 18 in 2012. Her first tv show was Blackout, a BBC miniseries. She acted as the daughter of Christopher Eccleston in the series. The same year, she appeared in another BBC show called The Secret of Crickley Hall.
Then, she recorded a tape for the audition of the American horror show Bates Motel and just in three weeks, she got a major role in the series. Cooke portrayed Emma Decody in the series from 2013 to 2017.
In 2015, she lent her voice in Axe Cop, an American animated series. Then, in 2018, she was cast in Vanity Fair as the main character. She played the role of Becky Sharp in the show.
The next year, she appeared in two episodes of Modern Love with actors like Jane Alexander, Julia Garner, and David Cork. In 2021, she voiced for the show named Soft Voice as dark voice. Her upcoming series are House of the Dragon and Slow Horses.
Movies Career:
Olivia's movie career started with a short film named Ruby's Skin in the year 2014. The same year, she starred in her first featured film titled The Quiet Ones, a British horror film. Also, she played the main role in two other movies (Ouija and The Signal) that year. The Signal was her first American featured film.
The next year, she played the role of Rachel Kushner (a girl diagnosed with Leukemia) in the comedy film Me and Earl and the Dying Girl.
In 2016, she appeared in two movies named The Limehouse Golem and Katie Says Goodbye. Then, in 2017, she starred in Thoroughbreds, for which she, along with the other cast members, got hugely praised by critics.
Later, in 2018, Cooke starred in Steven Spielberg's sci-fi movie titled Ready Player One with actors, including Tye Sheridan, Ben Mendelsohn, and TJ Miller. She then appeared in films like Follow the Roses, a short film, and Life Itself.
In 2019, the British actress starred in Sound of Metal with actor and rapper Riz Ahmed. The following year, she played the main role in Pixie, alongside Ben Hardy and Daryl McCormack. Then, in 2021, Olivia starred in two movies titled Little Fish and Naked Singularity.
Facts about Olivia Cooke:
In 2017, she won the Best Actress Award at the Manchester Film Festival and the Newport Beach Film Festival for her role in "Katie Says Goodbye."

She shaved her head for her character in "Me and Earl and the Dying Girl."
She was the executive producer of Soft Voice and The Little Fish.

Olivia Cooke was dating actor Ben Hardy in the past. But for now, the couple has split up.

In 2012, she appeared in One Direction's music video titled Autumn Term.

Titanic is one of her favorite movies.
Frequently asked questions on Google:
Q1: What is the height of Olivia Cooke?
Ans: 5ft. 4″ (1.66 m or 166 cm)
---
Q2: What is the age of Cooke?
Ans: [age birthday=1993-12-27 /] (in [current_year /])
---
Q3: Who is the partner of Olivia Cooke?
Ans: She was in a relationship with Ben Hardy previously. At present, we don't have any information regarding her love life.
---
Q4: What is the net worth of Cooke?
Ans: Not known
---
Social Media Accounts:
I hope you liked the Biography of Olivia Cooke and if you have any queries regarding this post, let us know in the comment box.
If you find this post-share-worthy, kindly do share it with your friends and loved ones. Thank you.