Tulsi Gabbard Biography – From an introvert teenage surfer to Combat fighter to the Presidential Campaign! 
Family Background of Tulsi Gabbard:
Tulsi Gabbard was born on April 12, 1981, in Leloaloa, American Samoa, United States.
Gabbard's family is full of diversities. Her family members are associated with different professions like sports, politics & the military. But there is one thing common in all, that is, Business.
Her family also runs some non-profit organizations, which are related to Health and Environmental issues.
Her father, Mike Gabbard, is a state senator of Hawaii and was born in the Fagatogo town of American Samoa. He was first associated with the Republican Party, but in 2007, he joined the Democratic party.
He has a Bachelor's degree in English and also did a Master's in Adult Education. Mike has been a Teacher, Counsellor, College administrator, Headmaster of a private school, and owner of a Restaurant.
Tulsi's mother, Carol Porter Gabbard, was born in Indiana's Decatur. Both run a business in Hawaii named Toffee Treasures, which is quite popular in the area.
She has a Bachelor's degree in Speech Therapy. She got elected to the Board of Education in the year 2007. Carol is a former teacher, tutor, and businesswoman.
Gabbard has one sister and three brothers. Her brothers are Narayan, Jai, and Bhakti Gabbard. Her sister, Vrindavan Gabbard, is the youngest in the family, and she is a U.S. Marshall.
Her brothers are associated with sports and also manage their family business.
Early Life:
She moved to Hawaii with her family at the age of 2 years old.
She got her initial education by home-schooling. Later, she completed her graduation in International Business from Hawaii's Pacific University.
She used to work with her family and siblings to run their family businesses. In the meanwhile, like her mother, she also started practicing Hinduism.
Tulsi Gabbard's Marriage life:
On April 9, 2015, Tulsi Gabbard married Abraham Williams, Hawaii & a DC-based cinematographer. He is also a Steadicam operator & a Photographer.
Williams has been covering her political campaign ads before their marriage. They both love Surfing. Tulsi stated in an interview that she and Abraham became friends because of their mutual love for Surfing.
Even Abraham proposed to her on an evening after the Surfing.
Tulsi was first married to Eduardo Tamayo, which ended on June 05, 2006.
Tulsi Gabbard's Profile
Personal Life
Full Name
Tulsi Gabbard
Date of Birth
April 12, 1981
Age
41 years, 9 months (in 2023)
Nationality
American
Religion
Hindu
Zodiac/Sun Sign
Aries
Birth Place
Leloaloa, American Samoa
College
Pacific University
Physical Stats
Height
5ft. 8"
(1.73 m)
(173 cm)
Hair Color
Black
Eye Color
Brown
Family & Relationships
Father
Mike Gabbard
Mother

Carol Porter Gabbard
Siblings
Vrindavan, Jai, Narayan, & Bhakti Gabbard
Marital Status
Married
Husband

Occupation
Abraham Williams

Cinematographer & Steadicam Operator
Political Career
Profession
Military woman & Politician
Hawaii House of Representatives
(Legislator)
2002 - 2004
Honolulu City Council
2011 - 2012
U.S. House of Representatives
2013 - present
Military Service
Years of service
2003 - present
Unit
Hawaii Army National Guard
Rank
Major
Deployment/Posting
Iraq war (2004) , Kuwait (2008-09)
Political Career of Tulsi Gabbard:
At the age of 21, in 2002, Tulsi Gabbard became the youngest woman state legislator of Hawaii. She represented District 42 of West Oahu. Her prime focus during the election was on education, tourism, and the development of Hawaii.
In 2006, she moved to Washington D.C. and provided her service in U.S. Senate as a legislative advisor of Daniel Akaka. They both worked on various issues like the environment, security & energy.
In 2010, she was elected to the Honolulu City Council. She worked as the Chair of Safety, Economic Development & Government affairs. She was also the vice-president of the Budget Committee and a member of the Public Work Committee.
Later, in 2012, she resigned from the council.
The First Hindu Representative at US Congress:
In 2012, she contested the election for the U.S. House from Hawaii's 2nd Congressional district as Democrat's candidate. She won the election by defeating David Crowley of the Republican party and became the first-ever American-Hindu member elected to Congress.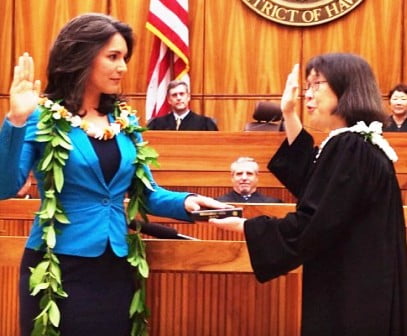 In November 2014, she again won the election by defeating David Crowley.
In 2016, Tulsi defeated the Republican's Angela Kaaihue, and in 2018, she defeated Brian Evans of the same party. As a result, she won the U.S. House Representatives election back to back four times.
Tulsi's Campaign for Presidentship:
In an interview in 2018, Gabbard said she was seriously thinking about the 2020 Presidential election. Then, in January, she declared herself a valid candidate for the 2020 Presidential election in the very next year.
On January 24, 2019, Tusli announced her name for the President's election by uploading a video on her website and later started her campaign officially.
Gabbard's campaign name is '2020 Tulsi', and her campaign slogan is 'Lead with Love.'
According to NBC News, the Russian government wanted Tulsi Gabbard to win the Presidential election of 2020. NBC said that few websites related to the Russian government published more than 20 stories in favor of her.
In January 2020, Billionaire Nelson Peltz, and his wife, Claudia Peltz, donated $5,600 each to the presidential campaign of Gabbard.
Later, in March 2020, she ended her presidential campaign and endorsed Joe Biden, former vice president of the United States.
Gabbard's Service in Military:
In 2003, when Gabbard provided her services to the Hawaii state as a legislator, she got selected in Hawaii's Army National Guard, a part of the United States military.
The following year, her brigade (29th BCT) was called up for the Iraq war, where she joined as a medical specialist.
In 2007, she completed her training at Alabama Military Academy, became the first woman to do so in the academy's history, and joined her brigade as an Army Military Police Officer.
Later, she was deployed in Kuwait from the year 2008 to 2009. In 2015, Tulsi was promoted as 'Major' from 'Captain' and continued her services in the Hawaii Military Guard.
Tulsi Gabbard's Religion:
Her father, Mike, is of Samoan and European descent and follows the Christian religion. He's also a Lector in a church. Tulsi's mother, Carol, is of German descent and follows Hinduism. Her mother is the only reason that she started practicing the Hindu religion and still practicing the same.
Her siblings' names were also named as per the Hindu religion. Even in an interview, she said, "she is proud of her Hindu religion."
People worldwide, especially in India, think Tulsi Gabbard is an Indian, as she believes in the Hindu religion.
Some of their questions are like – Is Tulsi born in India? Is she has any relation to India? So the answer is a big NO. She isn't Indian. Even, she has cleared this misconception many times in her interviews.
Facts about Tulsi Gabbard:
On October 12, 2015, Gabbard was promoted as Major from Captain.
In 2012, Tulsi Gabbard became the first American Hindu ever elected to the US House of Representatives.
When she first became the House of Representatives, she took the oath on the holy book of Hindus – Bhagavad Gita.
She is the first Samoan-American voting member of the U.S. Congress.
Gabbard is a complete vegetarian.
She is a trained martial artist.

Her motto for the 2020 Presidential campaign is '

Lead with Love.'

In 2002, she dropped out of Leeward Community College, studying television production to run for the Hawaiian state legislature.
Tulsi Gabbard loves Surfing; even her husband, Abraham Williams, is also a passionate Surfer.

She is in favor of legalizing Marijuana in the United States.
She has a youtube channel having 270k+ subscribers.
Frequently asked questions on Google:
---
Q1: What ethnicity is Tulsi Gabbard?
Ans: American
---
Q2: Who is the husband of Tulsi Gabbard?
Ans: Abraham Williams.
---
Q3: Is Gabbard still running for president?
Ans: No, she ended her 2020 Presidential campaign in March 2020.
---
Q4: What is the age of Gabbard?
Ans: 41 years, 9 months (in 2023)
---
Q5: What religion does Tulsi Gabbard follow?
Ans: She is a practicing Hindu.
---
Q6: What is the height of Tulsi Gabbard?
Ans: 5ft. 8″ (173 cm or 1.73 m)
---
Social Media Accounts:
I hope you liked the Biography of Tulsi Gabbard, and if you have any queries regarding this post, then do let us know in the comment box.
If you find this post-share-worthy, kindly share it with your friends and loved ones. Thank you.